Refugee children have been left to fend for themselves as the civil war in Syria appears to draw to a close and the world decides how to help these victims of terror and when it will act. The UN stands by and speaks out.
But, Israelis have decided to act themselves as time slips by and help the refugee children of Aleppo and Syria.
In this post we reveal the stories behind the headlines and learn of selfless actions which support refugee children in Syria.
While Israel has decided not to take part in the conflict that has ravaged its Syrian neighbor for five years, the fighting between various factions taking place on its border in the Golan Heights and the horror confronting its civilians has sometimes pushed the Jewish State and its citizens to act.
This is especially the case of the "Bus of Angels" project, initiated by Israeli non-profit organisation Amalia, whose objective is to transfer Syrian children to Israeli medical centers for treatment. Amalia is an Israel-based charity providing health care for displaced Syrian women and children by taking them to Israeli hospitals is breaking down stereotypes and historical enmities, one case at a time.
i24news met with Moti Kahana, who initiated the project, and who has for several years sought to increase the initiatives to bring aid to Syrian civilians.
In an interview broadcast on i24news' French-language "L'Hebdo" program, Kahana explained that the idea for the project was born from exchanges with Syrians who had managed to cross the Israeli border. According to them, the most important thing was to provide medical assistance to civilians.
Mordechai 'Moti' Kahana, an Israeli-American businessman and philanthropist, poured his own money into helping those displaced by the Syrian civil war in 2011. He sold his company and  founded Amaliah, a New York-run charity focused on getting aid into the war-torn country., in 2013.
Mr Kahana told The Independent he was inspired to devote his time to helping the victims of Syria's complex war after a visit to the Holocaust Museum in Jerusalem in 2010. "Never again – not to us and to no one else," he said.
"I cannot let these people suffer and die and walk away from it. I just cannot do it."
To achieve this, however, it was necessary to convince the Israeli government to allow the entry of Syrian citizens into its territory, something which took years. According to Kahana, it was the terrible reality on the ground that eventually persuaded the authorities to respond positively to his request.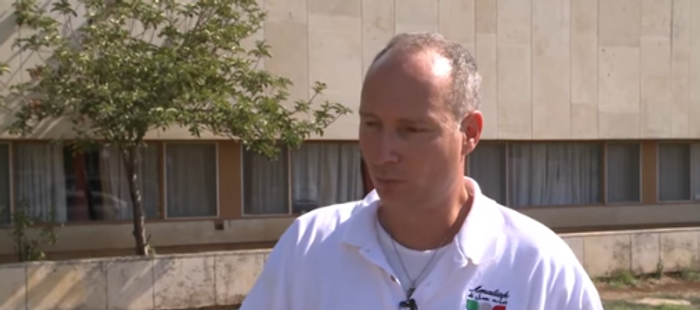 Kahana acknowledges his project's modest contribution. So far, only three buses have been chartered.
"We have set up a pilot program to see how it works, and it has worked very well and the reactions have been very positive," he told i24news.
"Our goal is to bring more than 10,000 women and children to Israel in 2017. People come in and go home at the end of the day, everything is funded by our organisation. That is, the Israelis do not pay for it, its the world that pays via donations. It shows that there is still hope," Kahana said.
The 48-year old Israeli, who has devoted his life to humanitarianism, also hopes that when those Syrian children who have been cared for in Israel become adults, "they will remember who were there enemies, and mostly who were their friends."
But it is mainly the lessons of history that inspired Kahana. Speaking to i24news, Kahana recalls the famous poem of the Pastor Martin Niemöller on the cowardice of German intellectuals at the time the Nazis rose to power, which has been engraved on a wall at the Yad Vashem Holocaust Museum in Jerusalem.
"When they came to fetch the Communists, I did not say anything, I was not a Communist, when they came to look for the Jews, I said nothing, I was not a Jew. And there was no one left to protest…" the poem reads.
"If we [the Jews] believe that we can watch what happens without engaging ourselves, and let Aleppo fall, let us remember the poem at Yad Vashem: 'they will come for us.' And I tell you, they will come. Their goal is to capture the entire Middle East, and they are on the way, step by step," he warned.
Kahana, an idealist, concludes on a positive note: "I no longer believe in the power of politicians, but I have not lost faith in humanity…We the people can stop the war in Syria."
For the sake of Syrian civilians, may he speak the truth.
Mr Kahana had to convince the Israeli authorities to let Amaliah operate despite the safety concerns, coordinating with both the Israeli Defence Forces and the Free Syrian Army rebel alliance to reach people in need.
As of September, Amaliah has managed to start a healthcare programme which takes buses of women and children from southern Syria across the border to Israeli medical facilities for check-ups and treatment at day clinics.
"In just one day we can save a kid's life from suffering, infection. Some kids they come in with one eye, they can't see," Mr Kahana said. "In Syria they cannot take care of it. In hospital [in Israel] one hour later, that's it, the kid can actually see again."
Demand for Amaliah's services is overwhelming. It is the only aid organisation of its kind operating in south Syria, and thousands of people get in touch through social media every day, the charity says.
Many of the adults and children treated haven't seen a doctor in years, and those children in need of serious care end up staying.
The Israeli state has by and large tried to stay out of Syria's bloody civil war. The initiative is notable for how it upends the political enmity traditionally felt by citizens of the two countries.
"I think they're actually probably really hesitant to go to Israel for the first time, it takes them time to warm up and once they see that we're here to help them," Betsy Laikin, Amaliah's media director, told Israeli TV.
An American-Jewish organisation working out of Israel to help Syrians, does surprise people, Ms Laikin added. But Mr Kahana's efforts to help deal with the war's fallout over the past few years has strengthened relationships between the charity with Syrians both inside the country and those who have left, she said.
Each bus can transport around 45 people at a time.  Amaliah is aiming for one more trip before the end of the year, and hopes to give 10,000 Syrian civilians access to medical treatment at Ziv Medical Center in Safed in 2017.
The charity's greater aim is to support projects that create partnership, stability and prosperity with the Middle East, their website reads.
Fed up of 'standing idly by', activists in the Jewish state have raised more than £200,000 for Syrians in need recently.
Israelis fed up of "standing idly by" have promised to help hundreds of thousands of Syrian children left stranded and starving after the Russian and Syrian governments reduced Syria's biggest city to rubble.
Organisers of the grassroots effort 'Just Beyond the Border' said they were bypassing Israeli government inaction and taking direct action, motivated by memories of the Holocaust.
"Hundreds of thousands of children are now refugees, orphans, torn apart from the world they knew," the group said. "They are just trying to survive the cold winter."
They have so far raised more than £200,000 from more than 5,300 individual donors, and have enlisted the help of Israeli Flying Aid to deliver blankets, medicine, sanitation kits and baby food.
Organiser Yoav Bakshi Yeivin said: "As an Israeli child I grew up asking where the world was when we needed them most. As a Jew I always knew that I was expected to be there, to help and lend a hand. There is no nation that knows better than us how lethal apathy can be."
He said the world was "watching, considering its options," but added: "As an Israeli, a Jew and a neighbour I can't just stand idly by."
Another organiser, Shivi Froman, said: "The reality in Syria is complicated for us as Israelis but inaction is not an option. We want to take children out of the equation because children are children and they deserve assistance irrespective of how complex the reality might be."
A Syrian refugee now living in Turkey has created a website to acknowledge the help that Israel, and Jews worldwide, have been providing to displaced residents of his native country.
39-year-old Aboud Dandachi, who worked in high-tech before the war, created a website called Thank you Am Israel, which links to stories documenting aid provided by Israel, as well as global Jewish organisations, given to his countrymen during the civil war that has killed over 250,000 and forced millions from their homes.
Dandachi told Ynet on Friday that he grew up being told that "the Jews are evil," but over the past five years, he has seen that "the Jews are the most humane and generous people of this era. When I see that Hezbollah and the Iranians are coming to kill me and I'm forced from my home by Syrians, and then I hear that Israelis and Jews are helping Syrians, my view of the world changes."
Dandachi suggested that when the civil war is over, Syria should make peace with Israel, as "there no reason for us to be in a conflict with Israelis." He praised Israel for "doing exactly what it must do."
It is not taking part in the war, but is helping wounded Syrians who need help. And it's not only the government. Israelis are helping Syrian refugees in Jordan, in Greece, Serbia, North America. No one would have blamed the Jews and the Israelis if they had said it was not their problem. That is, by the way, what many Arabs and Arab countries did. The Gulf states, for example, shut their doors to Syrians – and these are the countries that call themselves friends of Syria….
Dandachi created his website last December, because "we as Syrians cannot give back to Jews what they give to us, so we should at least thank them."
He explained the motivations behind his website on its "about" page:
It is said that one of the truest moral tests of a society is in how it treats those in need, and who have nothing to offer in return save for gratitude. It is a challenge that this generation of Israelis and Jews have met with exemplary generosity and charity, and it is that generosity that Thank You Am Israel was set up in acknowledgment and appreciation of.
Thank you to the people of Israel and the Jewish people the world over, for showing kindness and charity to Syrians, whether it is through your IDF medical teams, your aid workers in Greece and the Balkans, or your congregations in North America raising money to aid and sponsor Syrian refugees. God bless you and protect you.
In Humanitarian Heroes in a Wrathful World, which was published in the November 2015 issue of The Tower Magazine, Nathan Jeffay described the efforts of the Israel-based nonprofit IsraAID to rescue and rehabilitate Syrian refugees in Greece.
As boat after boat arrives at the Greek island of Lesbos, the refugees aboard are met by a cacophony of languages from aid workers offering help. But there is only one team of aid workers from the Middle East that can talk to these refugees from Syria, Iraq, and elsewhere in their own language. To their surprise, it is the Israeli team.
"It feels like I dreamed it," said a bemused 26-year-old man from Damascus. "I never thought an Israeli would treat me." His wife had just received medical help from IsraAID, a humanitarian aid agency that started working on the European refugee crisis in September. It currently has a team in Lesbos and another on the Serbia-Croatia border.
The Israeli team checked his wife, who is nine months pregnant, as she stepped off the boat, and took her to the hospital for emergency treatment. "I wouldn't have known that she was not okay, and because of them I knew to get her attention," he said.
Lesbos lies on a stretch of Greek coastline that faces Turkey. And it is from Turkey that the refugee boats are dispatched by cynical human traffickers. They will pack 50 people into a boat meant for 20 and take U.S. $1,700 from each. Then they designate a driver from among the refugees, and take no further interest in whether they survive or sink. Piles of abandoned boats and lifejackets give a sense of just how many thousands of refugees have passed through here in recent weeks.
Two members of the IsraAID team—a nurse and a doctor—are stationed on the shore night and day, and race to meet every boat that arrives. If the weather is bad and the boats stop 10 to 20 meters from shore, they wade out to carry children and help the elderly. If the weather is good, they wait on shore with blankets and food. Then they give IV drips to the dehydrated and treatment to the injured. The refugees are usually relived to find aid workers who speak Arabic, and bombard them with questions about the Greek bureaucracy's procedures for refugees.
Headlines in brief
Israel has spent years trying to avoid getting sucked into the vicious civil war raging in neighboring Syria. It's now wading into the conflict in a way you wouldn't expect.
On Tuesday 20 December 2016, Israeli Prime Minister Benjamin Netanyahu said that he has ordered his government to "find ways" to bring injured civilians from Aleppo, Syria, to Israeli hospitals. That could clear the way for hundreds of Syrian refugees, a country still technically at war with Israel, to cross into the country at the express invitation of a Prime Minister normally known for his hard-line positions on Iran, the Palestinians, and other issues.
Israel, which shares a long border with the war-torn country, has already treated thousands of both civilians and rebel fighters in field hospitals located right along the border. There has been intense fighting on the Syrian side — including occasional strikes carried out by Israel itself against ISIS targets, such as a strike in late November on a vehicle carrying four operatives from an ISIS-linked group that had opened fire at an Israeli patrol.
One such Israeli-run field hospital, the Ziv Medical Center, has treated more than 2,500 Syrians since 2013, when the civil war began, according to Dr. Salman Zarka, the hospital's director.
But Netanyahu's announcement marks the first time Israel has offered to take Syrians wounded on distant battlefields into Israel itself. The city of Aleppo, which has been the bloody epicenter of the fight for control of Syria for the past year, is located almost 400 miles away from the Israeli border.
Israel will continue to assist its refugee neighbours in this terrible times .
One Family provide ongoing support for victims of terror with a personal and caring touch.
We forge a sense of family among all the victims through support groups, retreats, camps and other programs, fostering an environment of mutual emotional and psychological support.
Please visit www.onefamilyuk.org for further information or contact andrew@onefamilyuk.org
Credits :
 i24news' French-language "L'Hebdo" program with Julien Bahloul.
IsraAID
Time of Israel
The Independent
JPost